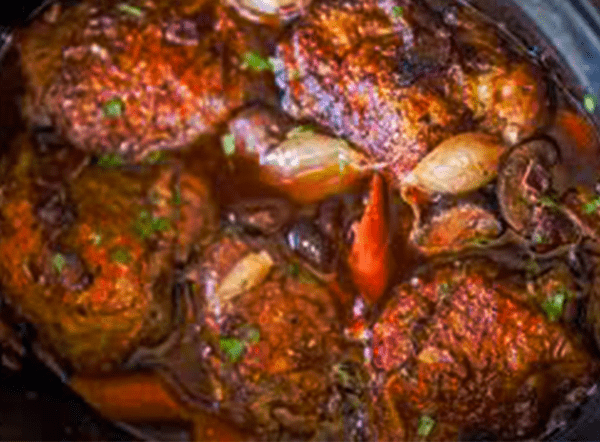 If you are like me, all this rain is making you feel…blah. All you want to do is stay in, wrap up in a blanket, and eat a hearty meal. Well, I have just the thing. Today I made a delicious crockpot meal that was warming and comfy. It was a lazy take on French cuisine. Here it is…
Crockpot Coq au Vin
You will need:
1 bottle drinkable red wine – burgundy/ red (For this recipe I used Menage A Trois Decadence Cabernet Sauvignon, Red Wine, 750 ML

5-6 slices of fully-cooked bacon chopped

4 chicken thighs with or without bone (skin is better) 

3 carrots peeled and diced

2 stalk celery diced

1/2 shallots sliced

1/3 cup portobello mushrooms quartered or large chunks

2 tablespoons tomato paste

1 cup chicken broth

5 sprigs fresh thyme

2 stems rosemary

1 cup pearl onions frozen or canned

1 1/2 teaspoon kosher salt divided

1 teaspoon freshly ground black pepper divided

3 tablespoon butter

1 tablespoon flour
INSTRUCTIONS
Pour the wine into a saucepan. Bring to a boil and reduce heat to a moderate bubble. Cook until wine is reduced to 1 1/2 cups — about 15 minutes. Set aside.

Season the chicken with half the salt and the pepper.

Add to cast-iron or non-stick skillet and brown on each side for 4-6 minutes on high.

Remove the chicken from the pan and add in the mushrooms and shallots. Turn fire down to medium.

Cook for 3 minutes, stir, then cook another 3 minutes.

Into the slow cooker layer the mushrooms, shallots, garlic, carrots, half the cooked bacon, broth (mixed with tomato paste), the rest of the salt and pepper, pearl onions, and the reduced red wine.

Nestle the pieces of chicken and top with thyme, rosemary, and bay leaf.

 Cook on low for 7 hours.

In a small bowl, mix the butter and flour and add it to the slow cooker and stir.

Cook an additional hour or until thickened.

Top with remaining bacon and stir before serving.
Ways to serve:
à la carte

on a bed of garlic mashed potatoes

buttered spaghetti

mashed cauliflower

buttered toast/roll
This dish is sooooo good! It is perfect for a rainy day like today or for a perfect Valentine's Day dinner. What is your go-to rainy day dish?

Tags: