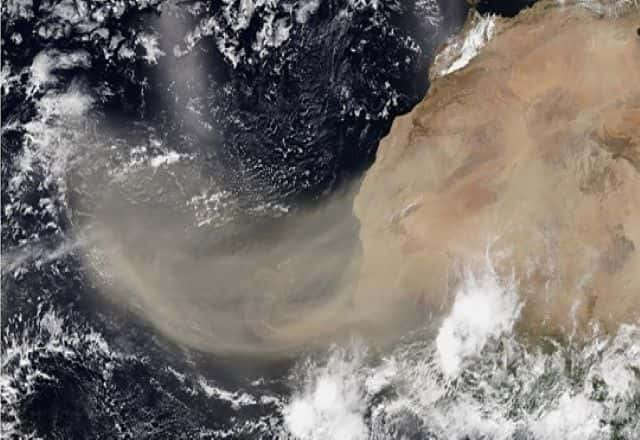 While zipping through all sorts of news articles this week, looking for 'other news', we came across not one, but two topics that interested us. Both originate in Africa.
The first one has to do with what you may or may not know, is actually an annual event: the Saharan Air Layer. According to USA Today:
The mass of extremely dry and dusty air known as the Saharan Air Layer forms over the Sahara Desert and moves across the North Atlantic every three to five days from late spring to early fall, peaking in late June to mid-August, according to the National Oceanic and Atmospheric Administration.
The current Saharan dust storm is named 'Godzilla', because of its very large size. The dust began moving across the Atlantic Ocean last week and is now located in the Gulf of Mexico. Some of the dust has already settled in some Caribbean Islands; Puerto Rico has been left with poor air quality.
We here in East Texas and South Texas may experience some low to unhealthy air quality this weekend, so if you have respiratory issues, such as asthma or COPD, you may want to avoid the outdoors.  A positive in this? Really beautiful sunsets. Photographers will love that.
Article Number Two actually isn't that new of a story. A locust infestation has been ongoing for the last year, from Africa, Arabia, South Asia, and South America. In areas where there is much food insecurity, the locusts are making the situation worse. An online news outlet, Vox.com explains:
A small locust swarm can eat more food than 35,000 people. But some swarms in the area have grown to more than 2,000 times that size. Billions of insects have formed swarms so thick that airplanes have been forced to divert their course. Some areas in Ethiopia have reported nearly a 100 percent loss in vital crops. And controlling the locusts has been especially difficult alongside the Covid-19 pandemic and the restrictions put in place to fight it.

What exactly made this year so bad? The weather. The desert locust thrives when dry weather turns wet. And in 2018 and 2019, a series of freak weather events brought record-setting rainfall to the Middle East and East Africa.
So. There are two different stories, both from Africa. Both made us think of plagues, of Biblical proportions. At the very least….something else to consider. Things that make us go 'hmmm.'

Tags: